---
Infrastructure and Systems
 As we are convinced that our customers need more than just a "cloud" service, we provide onsite consultancy with our customers to reach the highest quality standards. We support you in finding the right balance between SAAS, PAAS or local infrastructure. And we help you to implement and maintain your solution.
Development and Business intelligence
Each customer is unique. Efficiency requires standardized solutions, although IT tools must remain user and business friendly. We support you on the customization of your applications, their integrations, the industrialization of your data flows from Back Office to Reporting. All with a specialized focus on Data Governance.
Project Management and Business analysis
Technique is our passion, customer satisfaction, our priority. We ensure the success of our projects and build lasting relationships with our clients and collaborators, by defining the user requirements, managing deadlines, costs, risks and various project methodologies (Scrum, Lean, Kanban).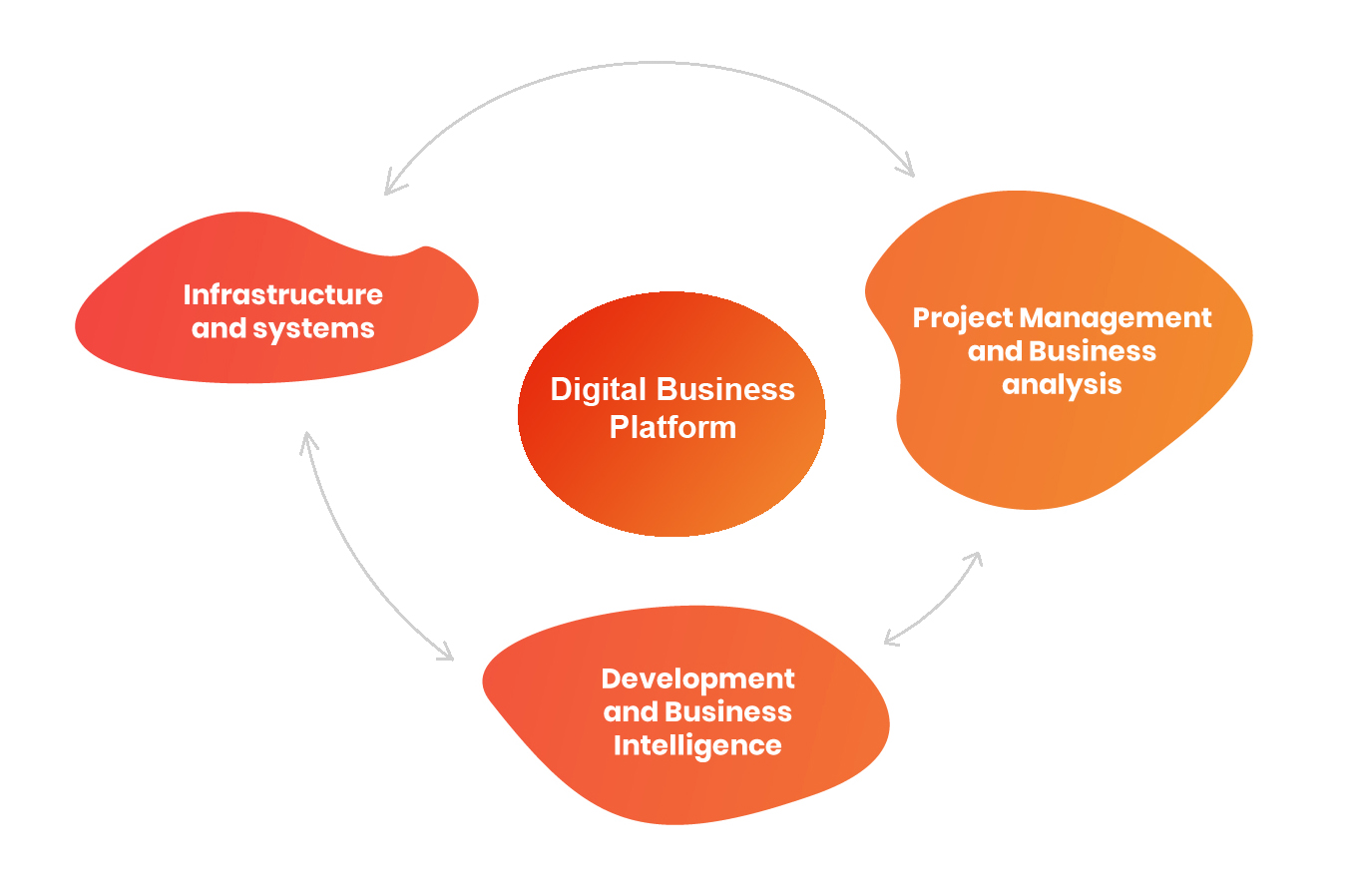 Digital Business Platform
The drive to digital is a powerful transformation, forcing enterprises to reshape the fundamentals of their businesses to defend, extend, create and disrupt the ecosystem.
---
Infrastructure and Systems
IAAS, LAN, WAN, MPLS
Linus, Unix, AIX
Middleware : JBoss, WAS, Tomcat
Data base : DB2, Oracle, SQL server
Development and Business intelligence
Big Data.
Cloud.
ETL : Informatica, SAP BODS, Datastage, Genio, …
Reporting : Qlickview, Business Object, MicroStrategy, …
Java, J2EE.
Javascript, Angular JS, …
SAP Data Migration and Integration.
Blockchain technologies.
Project Management and Business analysis
BABOK
Agile Methodologies ( Scrum, BDD, FDD, TDD )
Other methodologies ( Waterfall, Lean, Kanban )
CSV and Data integrity